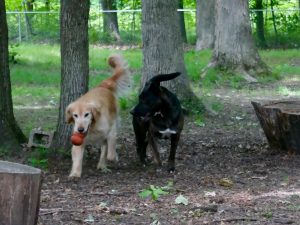 TIPS FOR ENJOYING THE
OFF-LEASH AREA
FIRST TIME USERS SHOULD VISIT AT NON-PEAK TIME
PEAK TIMES ARE MONDAY-FRIDAY, LATE AFTERNOON UNTIL DARK
SATURDAY & SUNDAYS GET BUSY MID DAY
The first visit can be a bit stressful for both you and your dog. Make it easier by going when the park isn't really busy.
Walk the trails area or just hang out and observe other dogs playing. Plan on an extended visit so both you and your dog have time to relax and enjoy the outing.
OBSERVE POSTED PARK RULES
RULES ARE POSTED ON THE BULLETIN BOARD NEAR THE OFF LEASH AREA
LET YOU DOG OFF LEASH ONCE YOU HAVE ENTERED THE BUFFER ZONE
Do not allow loose dogs to come through the gate as you enter. This will make your dog feel trapped in the small confined space.
Leashed dogs may feel threatened and growl or bark when off leash dogs greet them.
KEEP WALKING
This keeps the off leash are neutral territory and prevents your dog from using you as a security blanket.
If you have a small dog do not carry them. This encourages other dogs to jump up on you to visit.
PICK UP POOP!!
This is the most important thing that you can do to help ensure the success of the park.
Pick up not only after your dog, but also any extras you may come across.
Help educate other owners – offer to get them a bag or poop scoop.
Dispose of waste in proper places.
BE AWARE THAT DOGS HAVE DIFFERING PLAY STYLES
Educate yourself on dog behavior. Ask questions. A behavior that concerns you may simply be a rambunctious play style.
Many dogs play with tongs hanging and "mouth fight". They also "talk" while playing.
Watch your dog for signs of aggression or playing too rough and correct the situation by taking them out of the area if necessary.
YOU ARE RESPONSIBLE IF YOUR DOG INFLICTS AN INJURY
PREVENT INJURIES BY PAYING ATTENTION TO YOUR DOG AND HIS BODY LANGUAGE AT ALL TIMES.
IF YOUR DOG INFLICTS AN INJURY GIVE YOUR NAME & PHONE NUMBER TO THE OTHER DOG OWNER BEFORE LEAVING THE AREA.
PLEASE ADVISE OFFICE STAFF OF ANY INCIDENT REQUIRING TREATMENT
HELP KEEP THE PARK SAFE AND CLEAN
Please pick up any trash you see lying around.
Do not let your dog dig holes. (except in and around the Sand Dig
Please quiet excessive barking
BE A RESPONSIBLE OWNER
Do not bring females in season to the Park.
Train your dog in basic obedience. The park is a great place to practice.
Keep vaccinations and parasite prevention current.
PLEASE RESPECT PRIVATE PROPERTY AND NON-PARK AREAS.
ENJOY YOUR DAY AT THE PARK