.:ATTENTION:.
BE SURE TO ATTEND OUR ANNUAL DOGGIE HALLOWEEN EVENT AND COSTUME CONTEST ON OCTOBER 7TH
Effective immediately, We are now requiring the Canine Influenza Virus Vaccine for all dogs coming to the facility.
Woof Woods – Genesee Counties Finest Dog Park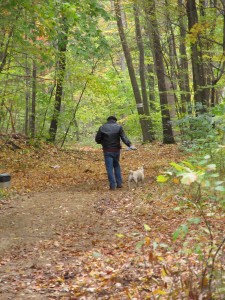 Enjoy time with your dog on our 12 acres of groomed trails,or play with them off leash in one of our fenced wooded areas. Key-lore Woof Woods Dog Park is a great place to let your dog socialize with other dogs and to meet other people who enjoy their pets as much as you.
Park Hours, Fees & Rules
The park is open daily from 9:00 am to dusk. First time visitors need to come to the office to give vaccination records. Park Passes are $35.00 for the first year and $15.00 annually thereafter. Our office hours are Monday through Friday from 9:00am to Noon and 3:00pm to 5:00pm. Call (810) 659-5951.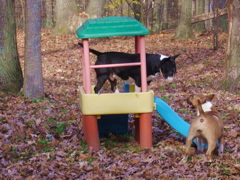 Why are we a pay to play park?
We keep track of who's using the park
We check vaccination records, so that your healthy dog can stay healthy. (We ensure that our pets remain healthy and free of bugs, as we do the same for your pet)
We arrange proper play groups
We keep our park and trails groomed, and we do our best to keep our yards poop free
We keep an updated and groomed agility yard that is for your use (available in spring through fall)
What You Will Need:
One Year Park Pass (Available in Our Office)
Proof of Current Vaccinations including: DHLPP-Parvo, Bordetella (canine cough), Rabies
Effective Immediately: We now require all canine visitors must have the Canine Influenza Virus Vaccine administered prior to their visit to our facility.
Negative Stool Check (done within 6 months)
Negative heart worm test for current year and be on preventative medication
Proper fitting leash and collar for on leash areas
Please Note:
No aggressive dogs allowed
No chain collars allowed in off leash areas
Agility Park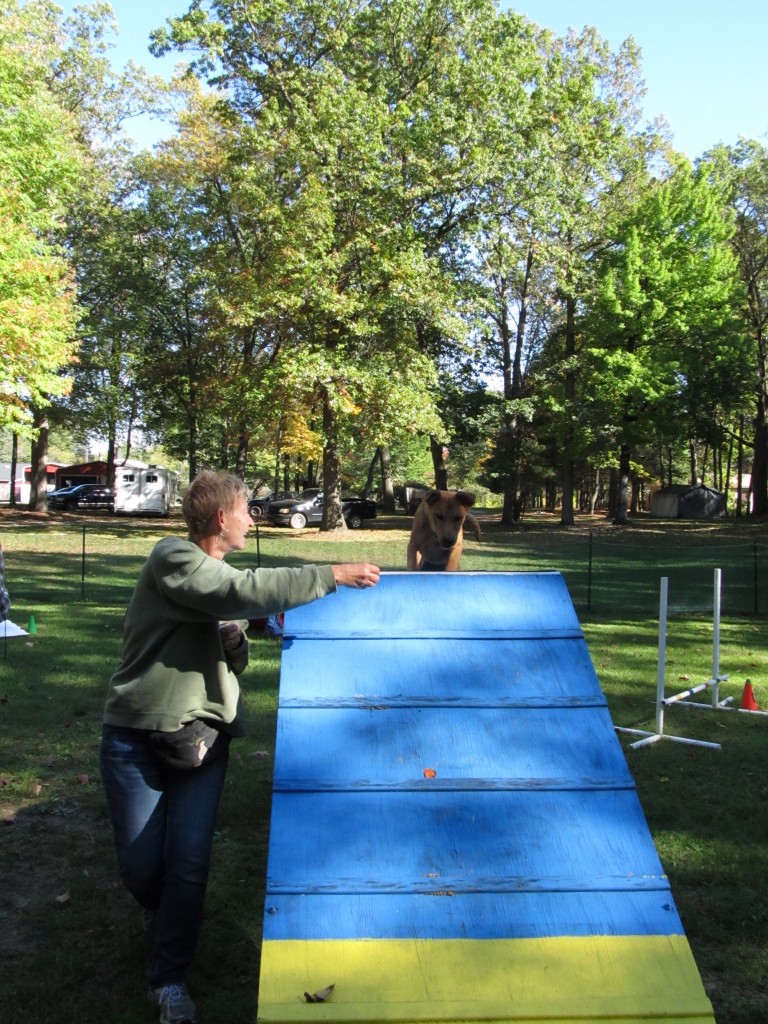 Barn Hunt at Woof Woods Dog Park
What is Barn Hunt you may ask?
Barn Hunt training for you and your dog. We're going to introduce you & your dog to Barn Hunt and answer questions about how to get involved in this fast growing sport.
The purpose of Barn Hunt is to demonstrate a dog's vermin hunting ability in finding and marking rats in an above ground "barn-like" setting, using a straw/hay bale maze to introduce climbing and tunneling obstacles in the dog's path. Rats in aerated tubes are hidden in the maze for the dog to find, and some tubes will be empty or only contain litter.
Barn Hunt is for ANY breed or mix of dog who loves to hunt, Barn Hunt is all inclusive and fun for any dog and human who wishes to play the game.
Test hunting instinct in vermin hunting breeds (open to ALL breeds and mixes, you do not have to have a vermin hunting breed to play the game)
You tell the judge when the dog has found the prey, demonstrating your communication and partnership with your dog
At all times, the safety of the dogs, handlers, and rats is to be of paramount importance.
Enclosed straw mazes setup with tubes. We'll hide the rat and you can find it or you can work to find two rats as in the upper level Barn Hunt divisions. There will be a tunnel in each maze. If you want to work against the clock you can be timed. If you have a small dog we have a step to get on top of bales.
Workshops will be held throughout the summer and fall months.
For more information about our workshop view our events page or contact our office (810) 659-5951.
Park Events
Call (810) 659-5951 to ask about Doggie Birthday Parties / Special Events at Woof Woods Dog Park.
Upcoming Events
AUGUST 13,2023 Bull Terrier Club of Metro Detroit B Match and BULLY-O-LYMPICS
SEPTEMBER 8-10, 2023 BARN HUNT BUDDIES Fall Fling Trial
SATURDAY OCTOBER 7, 2023 Tricks For Treats & Mutt Masquerade
---
Also, check out our Upcoming Events via Facebook