.:ATTENTION:.
For the safety of our customers and pets, we are now requiring all of our canine companions visiting the facility for any service to be vaccinated for the Canine Influenza Virus (annual). Please consult your veterinarian for the Canine Influenza Vaccine.
Doggie Day Care
Call (810) 659-5951
Looking for a great way for your four-legged friend to pass the time while you are at work?
He'll go out to play with his friends, take a nap, and then go play some more – all under the supervision of our STAFF. Yes, we do have indoor areas for small friends that can't tolerate the cold weather.

Benefits of Doggie Day Care:
Doggie Day Care offers a safe and constructive place for your dog to have fun running and playing while you are working or running errands.
Your dog will be surrounded by our passionate staff that will arrange games, arrange playtime with friends, and plan activities for your dog to make the most of their hours at our facility.
Attending doggie day care just a few times a week will keep your dog mentally stimulated, and physically active, meaning they will be less likely to exhibit destructive problems at home. Your pooch will also be relaxed and exhausted by the time they are picked up, meaning an evening walk will be less necessary.
As a dog owner, you get peace of mind knowing that your dog is receiving care, without worrying about him/her digging through the trash, or barking all day, or looking for an escape route.
Doggie day care allows healthy opportunities to socialize dogs with other pets of various sizes. Good socialization generally helps mellow a dog's temperament.
Day Care Options & Rates
Available Monday-Friday.
Drop off as early as 6:00 am.
Pick up as late as 8:00 pm.
Call (810) 659-5951
Prices effective as of 04/01/2017
Daily: $20.00
Weekly: $60.00
Monthly: $200.00
Play and Train
Add daily agility, obedience or fitness program to your pet's day care experience for an additional $10 per day.
Overnight Sleepovers
$45 – Includes Day Care
Doggie Day Spa
Grooming, Bath, Trim Nails. Prices vary by breed.
Dog Birthday Parties & Special Events
Call and ask about doggie parties and events!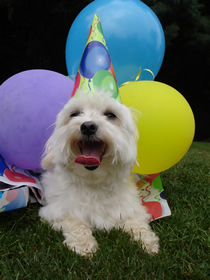 ---
Health Requirements for Boarding, Doggie Day Care and Woof Woods Dog Park
Canine Requirements
Current and up to date vaccinations for DHLP-Parvo, Bordetella (canine cough), Canine Influenza Virus  (annual)  and Rabies (Proof required)
Tested Heartworm negative for current calendar year and on monthly preventative.
A negative stool check done within 6 months and updated yearly
We strongly recommend a flea preventative such as Frontline Top Spot due to our wooded areas and abundant wildlife.
All Canine's visiting our facility are REQUIRED to have a Canine Influenza Vaccine.


---
Please consult your veterinarian with any questions regarding your pets health or vaccination status.
Records faxed in advance to (810) 659-6113 are greatly appreciated