Products by Zymox
---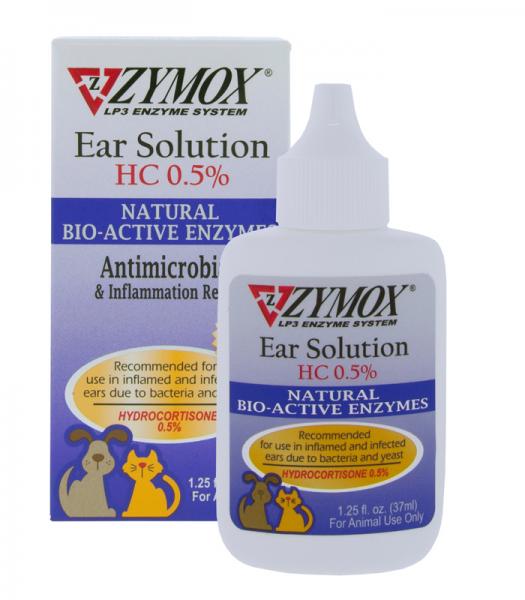 19.95 +S/H
Highly effective for aiding in the treatment of bacterial, fungal and yeast infections including Staphylococcus, Pseudomonas, Proteus and Malassezia. The solution works with the body to react with present pus and debris to kill infectious microorganisms. The non-invasive protocol requires no cleaning before and during use so that the enzyme activity is not disrupted. Also recommended for treating antibiotic sensitive animals, difficult problematic pets, rodents and sensitive exotics.
Has no memory so destroys antibiotic resistant microorganisms
Contains no antibiotics
No pre-clean, once a day protocol makes it simple to use
Cleans and relieves with one daily dose
Ear Solution w/ .5% hydrocortisone – 1.25 oz. bottle
---


19.99 +S/H
ZYMOX® Ear Cleanser provides an effective, non-toxic way to manage dirty ears. The addition of Lacoperoxidase, Lactoferrin and Lysozyme, which have natural bio-active properties for mild microbe control, plus gentle cleaning surfactants, makes ZYMOX® Ear Cleanser perfect for cleaning dirty ears. Does not contain harsh chemicals or cleaners to irritate sensitive ears. Leaves ears smelling fresh.
Ear Cleanser 4 oz. bottle
---

$17.99 +S/H
The first line of defense against infectious microbes is the skin. 
ZYMOX
®
Shampoo provides an effective way to protect this natural barrier without being irritating or drying. Only the mildest plant surfactants are used and the enzymes have anti inflammatory properties to calm the skin. The LP3 Enzyme System with the addition of Vitamin D3 helps relieve surface irritations and hydrate the skin.  The shampoo contains no harsh detergents, chemicals or petroleum bi-products and features a pleasant, mild fragrance.
Pure and gentle enough for puppies and kittens
Does not contain harsh detergents, steroids, or petroleum by-products
Calms and soothes itchy allergy prone skin
Provides natural inflammation relief
Pleasant mild fragrance
Shampoo 12 oz. bottle