ATTENTION FOR THE CHAUFFEURS
Beginning JUNE 24, 2016 through JUNE 27, 2016 the Flint River bridge (on Mt.Morris Rd.) will be closed. We are sure that MDOT will be providing detour signs, we would also like to give you the option of using our personal favorites!
NORTH BOUND I-75 DIRECTIONS & MAP
Traveling North on I-75: Take the Pierson Rd. exit 122, go West (turn left.) Pierson Rd. turns into Main St. as you go through the town of Flushing. It will dead end at Seymour Rd, go North (turn right), to Stanley Rd (the Flushing Township Police is on the corner.) Go East (turn right) Stanley turns into Gillette once you go around the corner. 6/10ths of a mile on your left is where we are.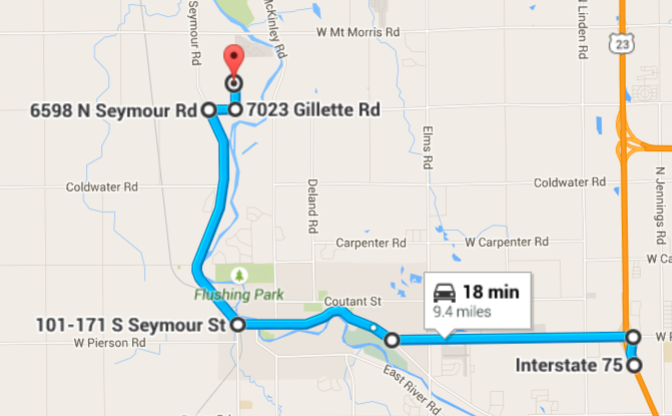 SOUTH BOUND I-75 DIRECTIONS & MAP
Traveling South bound on I-75: take the Clio-Montrose exit 131, go West (turn right) continue West to Seymour Rd. turn South (left) to Mt. Morris Rd, turn left. Gillette will be on your right hand side.