Testimonials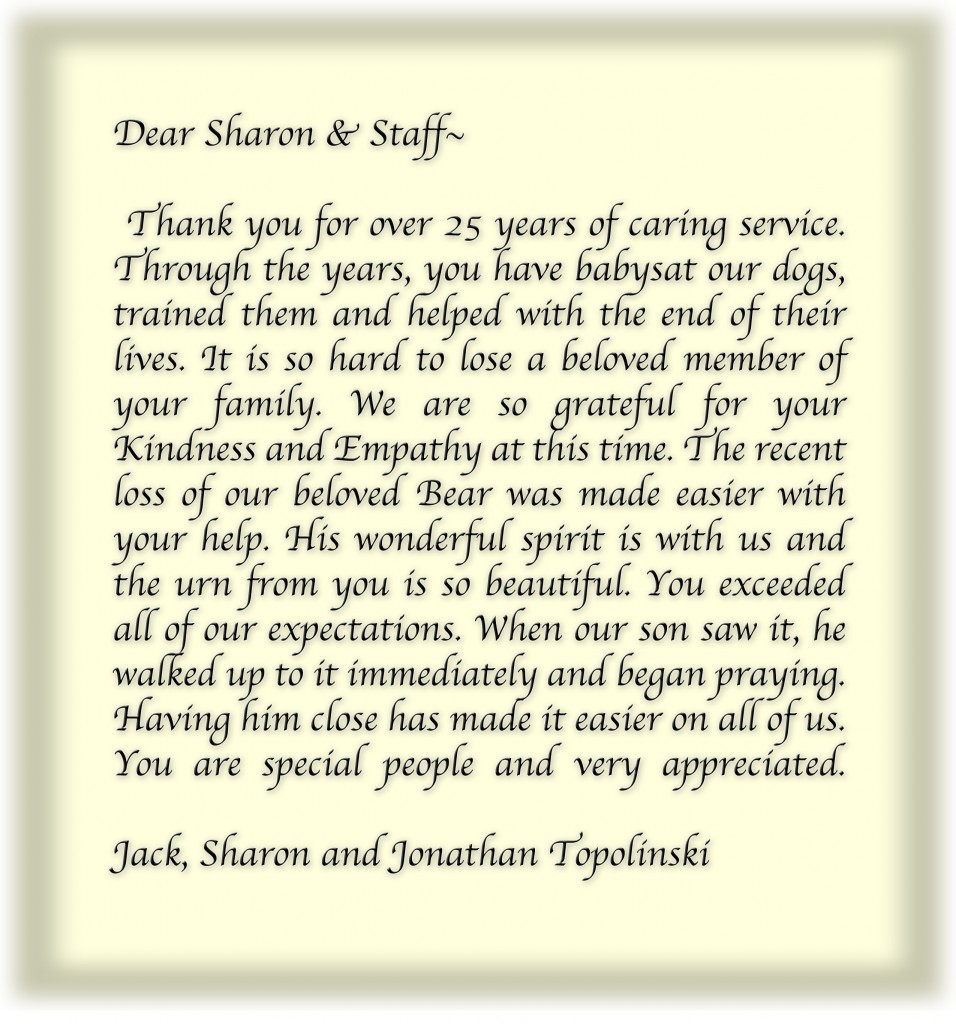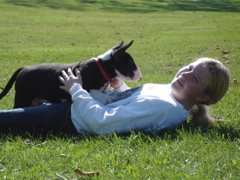 [hms_testimonials group="1″ template="13″]
---
Sharon,
Thank you for your donation to our event for Mike Singleton help us build a House and thank you for staying to help. We raised over $4000, paid for food and T-shirts and still deposited $3380 for the house. They should be able to move in soon.
Independence Promotions
---
Dear Lisa,
Words can never express the appreciation i have for you and your staff. You took care of Nick and I. Now i can smile thinking that he's in my future…
God Bless You,
Linda and Nick
---
Thank you, thank you, thank you so much for the wonderful job guys did with Tylers cremation you are all very wonderful and caring people. You guys have a very nice place over their and have a lot of wonderful things to offer people. Thank you again.
Kelley Murray
---
Dear, Pet Rest Gardens,
We cannot thank you enough for the care and compassion you showed us at the time of Kasha and Kadie's passing. "Our girls" were the farm mascots for 12 years and not a day goes by that their loss is not felt around the barn. They lived the perfect life for a pair of German Shepards and it showed in their overall health and longevity. It was so comforting to know that at our time of emotional sensitivity we didn't have to even contemplate after care arrangement for "the girls." Life continues at Genesis farm under a new generation of guardianship now. And, not a day goes by that we don't somehow see the girls at work inside the minds and actions of "the boys" Barron and Wyatt. This gives us comfort that our girls are never truly gone.
John and Michele
---
A special thanks to Lisa and Jake for everything you did for us with our dog Rigz, who we just lost. Thank you for all you do and your kindness.
Shelly Sampler and Brian Hall
---
We would like to thank you for your services that you performed on Polo last week. This was very unexpected and quick. He was the love of our lives. So smart, loveable, and our best friend. He went everywhere with Bob. We would tease him and call him velcro. When Heritage acres called Saturday to say that they had Polo back was just a replay of last Saturday when we had to make that horrible decision. We are so glad that you were there for us.The certificate and the rainbow bridge poem is absolutely beautiful.Thank you for helping comfort us and all your services.
Bob and Tammy Hamill

---
March 30, 2008
Jackie and I would like to thank you for being there and being so understanding when we brought Misty to you. She now sits on our end table to be where ever we are forever.Thanks again for all the support. Keep up the good work, as there is a need for people like you.Thanks,
Jackie & Lee

---
October 15, 2008
Thank you so much from the bottom of my heart for taking care of my girl, "Addie", after her passing.As a veterinarian, it seems as though I deal with death on nearly a daily basis but nothing compares to losing your own pet and true family member. Addie was my Christmas present when I was in the 7th grade and all my best (and worst!) memories were lived through with her at my side. She never complained when my veterinary -student-slave pager went off at 2am. I can't count the number of trips she made between Lansing and Flushing through 7 years of college and dating! We still miss her dearly but the happy memories make us smile. We take comfort in knowing she was treated with so much dignity and respect.
Dr. Michele Koan & John
---
It's very nice to meet you! I'm very excited that Lycos will have all that room to run around, and with other dogs, to boot! It gives me a peace of mind knowing that he will be in good hands.
Laura
---
Thank you for letting me know about Cinder. I am anxious to get her back home with me.I want to thank you also for taking the time to go over how the Cremation is actually done and how you transported Cinder from Dr Taylors to your place.
Bonnie

---
October 29, 2008
Thank you for your services at one of the saddest times of our lives. We know that our little Shadow (a.k.a. Stinky) was treated with the greatest respect and dignity while in your care. She is the third pet we have lost in the last three years – all of which you cremated for us. Having her back here with us has been comforting to me. Explaining how Stinky "turned into dust and got in the box" has been interesting to explain to our four year old – but she is glad that Shadow – although in different form – is back at home with us too. Thank you – and, no offense, but I hope we don't have to use your services again for many years!
Holly & Brian Kaster
---
November 21, 2008
Hi, we had our loving pet put to sleep at Caseville Animal Clinic over the weekend. My husband Eric, had set it up, for you to pick our Mallie up and hold her for us til the ground thawed. My daughters and I have sent some loving notes to place with her in her box. Thanks again for all your help during this difficult time for our family. I am so glad we found your services.
Sincerely,
Kristy Oberts

---
January 19, 2009
We both would like to thank you and all of your staff for the terrific care that you have given Freck over the past 15 1/2 years while we were traveling. You have a great facility and we would certainly recommend it to anyone. Thank you again for all you have done for us.
Phil & Pama

---
February 2, 2009
Bill, Sharon, Lisa & Staff,
Thank you so much for the wonderful care Larry has received and continues to receive. Thanks for your patience and the time you spent training Larry. We all remember what the "Demon" he was at one time. You saved my "Best Friends" life (literally ) . Yes, you transformed him from the rotten "Demon" to the perfect "Angel" he is today. I can't thank you enough for the transformation. Grandma and myself enjoy him so much and I honestly don't think that would have been possible if it weren't for your patience and wonderful care. Key-Lore is truly a dogs heaven.A special thank you to Dustin for the great care you give Larry. He loves you and his tail goes a mile a minute when he sees you coming. I would also like to thank Renae too. Larry loves you too. You are great!! You hire only the best, all your staff is fantastic.I highly recommend your services to anyone (even perfect strangers).
Thanks so much,
Paula & Larry

---
March 9, 2009
Just wanted to say thank you for the compassionate care that you gave me when Carla, our beloved friend of 16 years, passed away a month ago. The exceptional care that you gave us from the 1st phone contact on Sunday when she passed, to allowing me extra time to say good bye, to picking up her ashes in the beautiful urn. Thank you to all of the staff for helping me through this difficult time.
Darlene Robinson
---
March 11, 2009
I have been meaning to send you a thank you since I got home… Cash is still doing great. I haven't been able to walk him due to my surgery, but in every other way he is awesome. The kids have continued working with him when I could not. Thank you for all the time you spent with him, he is like a different dog. You are wonderful at what you do. Please tell everyone I said thanks and hopefully I'll be able to bring him to play and for agility when we come down state.
Kim Maves

May 4, 2009
Thank you so much for assisting us with the purchase of the pewter urn. You went out of your way to make sure we got the right one. Toby can now be laid to rest along side his sister Niki.Pam & Steve ShawSharon,Thank you so much for helping us with Daymeon.God BlessDear Key-Lore friends,Thank you for hosting my first birthday party! I was one year old on June 1. My people thought the party hat with balloon pictures was cute! And we all loved the greeting card with the names of my doggie play pals. I admit that I liked that great big "doggie bone cookie" most of all!!
JJ Leach

June 2009
Thank you so very much for encouraging Joe and I to unwrap Missy and say goodbye one last time.It helped so much for us to see that she was "OK" as we have felt so guilty keeping her for so long.
God Bless You,

Leslie
---
Sharon,Just wanted to thank you so much for your care and support with the loss of our beauty Lynne. We wanted to thank you for your true compassion for us and our wonderful beauty. She was with us a long time and a true part of the family. She will be really missed, but with your services that you provided, she will always be in our hearts.Words cannot express our gratitude for all you did for our family!
Sincerely,

Jerrika, Patryce and Jason,

---
Thank you for your kindness and gentle care. I don't think I could have gotten through the day without your help. It is obvious that it is not just a business to you but that your really care about the loved pets and their people.
Ferrill Alice
Grace Christensen
---
Sharon,Thank you so much to talking with me the day Remedy died. Going home that night without her and being only with the dogs was very hard. I truly appreciate your thoughtfulness and compassion. I also appreciate that I was able to have Remedy " back home" when my husband returned. Thanks again for everything.
Sheley & Abe Espamer
---
To the dear people at Pet Rest Gardens Cemetery,Thanks a lot for everything you do.
Dorothy
---
Lisa,Thank you for all you have done for us. We appreciate your consul and advise.
The Bush Family
---
I just wanted to thank you so much for being so kind and caring. You do a wonderful job. I really appreciated you compassion for my beloved companion Lady Bug.
Susanne Hare
---
Sharon & Lisa,
Thank you so much for everything you did for us to make it easier to let Maxie go. Your care and concern for our family meant so much to us at such a difficult time. Thank you especially for the extra time you let me spend with her to say a final goodbye.
The Rivard Family
---
Dear Sharon & Lisa,Thank you for taking such great care of our "Yorkie Family". We especially want to tank you for your kindness and professional services you gave recently with our loss of Harley. We think its very important that you both know how much we appreciate you.
Rich & Nancy Bysko
---
Thank you for always taking such good care of Tillie & Dudley at Day Care.
Jill & Tim Edson

August 2009
---
Thank you all at Pet Rest Gardens for taking such good care of my Bandit.
Jill
---
I can't thank you enough for your care of Tom and I can't begin to tell you how much I appreciate your kindness…
Toni Conti
---
Thank you so much for giving your time and services so freely. You have made this time a bit more bearable knowing that I could count on you to help.
Beth